We are authorized installers of Polaris Doors and Windows.
Our fiberglass or steel entry doors are available in a variety of styles and color options. Contact us to discuss a style that will suit your home. Click on the paint and stain options below for a larger view.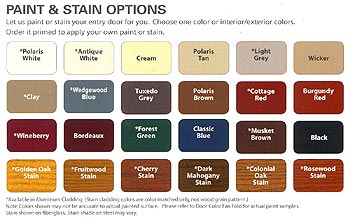 The doors are also available with several caming options (zinc, Patina, or Polished brass) and aluminum clad door jambs which protect the exterior jamb from weather and offer a pristine appearance.
Our Framesaver® Exterior Frames are made from a revolutionary composite material and finger-jointed to wood to maintain structural integrity. The frames machine and finish like wood but won't absorb water. They are guaranteed for life against rot and insect damage.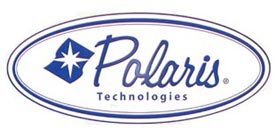 Premium Vinyl Replacement Windows:
Comfort, energy efficiency, ease of operation and ownership are built into every Polaris UltraWeld® window. Tough Polaris vinyl extrusions are "ultra-welded" at every corner to create seamless and strong windows.
Polaris energySMART® glass is standard along with many other energy saving featured. Your new vinyl windows will retain their pristine appearance and weather tight barrier for a lifetime.
Double Hung Window Features:

Sash Limit Locks allow secure partial opening
Heavy Duty Sash Lock and Keeper for added security
Recessed Tilt Latches allow both sash to tilt in for easy cleaning.
3/4" "True-Position" Balance System for easy and quiet operation - never slips.
Continuous Over and Under Interlock prevents air infiltration.
Triple Weather Stripping
energySMART® Glass for thermal performance
Extruded Lift Rail part of sash extrusion, not added later.
Welded Frame and Sash Corners - seamless superior strength
Optional Foam Filled Main Frame adds strength and insulating performance.

Click on image to view additional available styles.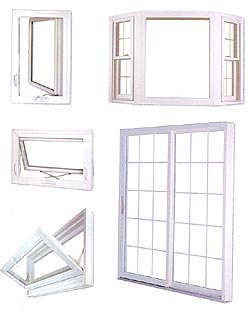 Glider Window
Sash remove from the inside for easy cleaning. Full length pull rails are part of sash extrusion, not added later. Sash rails have a continuous interlock which virtually eliminates air infiltration.
Casement, Awning, and Hopper Windows
Cranks, hinges, and locks operate effortlessly and are designed with style and strength. Casement windows can be cleaned from inside the home because the hinged side of the sash slides away from the frame when fully opened. Awning windows provide ventilation even during rainy days. Upgrade your basement with hopper windows.
Bay, Bow, and Garden Windows
Invite depth, charm, and light into your home with these custom engineered windows. Choose a bay window with its expansive picture window flanked with either double hung or casement windows. Select a bow window with double hung, casement and/or fixed windows. Ask us for a Bay/Bow brochure.
Add an herb garden to your kitchen with a garden window. These custom built units are structurally strong and are extremely well insulated.
Patio Door
The UltraWeld vinyl patio door delivers the latest in gliding door technology and safety. Ask for a patio door brochure!
Click here to view our Doors and Windows photo gallery.