Click on images for larger view. Press anywhere on opened image to close.
I have access to all brands, styles, and profiles of vinyl and aluminum sidings. Here are two brands that have consistently met my standards:
LIFETIME WARRANTY
Lifetime Non-Prorated Limited Warranty with Exclusive Dura™ Color Protection. Covers materials and replacement labor for a lifetime of original purchase and subsequent owner if transferred!
*please read complete warranty information that will be supplied with your siding for more details!

JOURNEYMAN Select Vinyl Siding (0.44")
Noted for its wide selection of profiles and colors Journeymen vinyl siding exceeds industry impact standards while leading the way with design features that help to ensure a more secure installation, along with better resistance to wind and weather extremes. Journeyman features include:
DuraColor - innovative protection that delivers superior durability in color retention through the most advanced color technology available. The color-through process hides scratches to maintain its clean, freshly painted appearance.
WindLok 180 - maximum holding power, even in the face of hurricane force winds (up to 180 miles an hour!)
Double Nail Hem - provides crisper, cleaner and tighter fitting siding
Won't crack, peel, flake, dent, or corrode.
Dura Technology System - proprietary testing system that guarantees a tougher and longer lasting siding.

Shear Test - shears and siding are frozen at 14 degrees, siding is then cut into sections to ensure the siding maintains its rigidity under severe weather conditions
Flex Test - siding is bent almost 180 degrees at 32 degrees to ensure it maintains its structural integrity and superior durability under the harshest weather conditions
Impact test - an impact test is performed at 73 degrees and again at 32 degrees to simulate harsh weather conditions, ensuring our vinyl siding exceeds ASTM standards

Available in 4 profiles and a variety of colors, including dark and premium colors from the Colorscapes™ collection.
Unbeatable lifetime non-prorated fully transferable to lifetime non-prorated limited warranty covering material and labor.

Fairfield Vinyl Siding
Whether you're remodeling or building your dream home, Fairfield vinyl siding lets you express your individual style with taste. It offers the best of both worlds: the rich look of premium wood and the long lasting durability of vinyl siding. With its positive locking system for a smooth, clean finish Fairfield vinyl siding is more than just a pretty covering. It's a long term investment in your comfort.
Built to last a lifetime, Fairfield vinyl siding is available in a wide array of classic shades that will never go out of style. The colors penetrate the entire thickness of the panel, so you'll never have to worry about scratches or fading. A simple hose washing is all it takes to keep your home's exterior looking brand new - year after year!
Benefits or Fairfield Vinyl Siding include:
Rich, deep-etched woodgrain finish
Positive locking system assures easier installation
Easy-care convenience, never needs painting
Panels remain straight and true
Reinforced nail-hem withstands gale-force winds
Offers a lifetime of beauty and comfort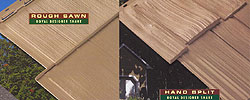 Specialty Siding
Cedar shakes have been popular with homeowners for generations. Now the classic look of authentic cedar shakes can be yours with Royal Designer Shake. This innovative exterior cladding comes in two distinctive profiles, rough Shawn and hand Split, both of which compliment a wide range of architectural styles that will elevate your home beyond the ordinary! Click here for more information on Royal Designer Shake specialty siding.
Siding Accessories
We offer a variety of accessories to complete and compliment our vinyl siding. From shutters and mounting blocks to gable vents we have a style that suits your home. Click here to view the available accessories brochure.